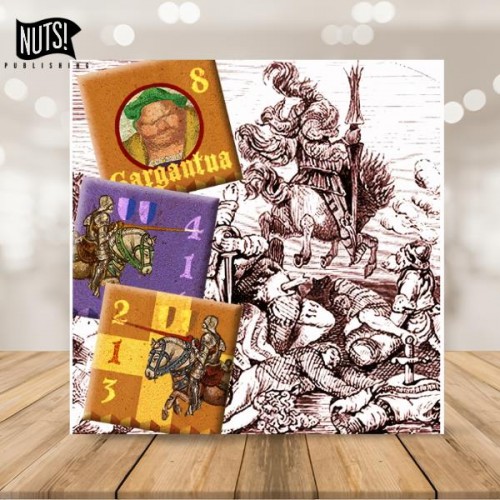 You can download the free PnP fo the Picrocholine Wars in Resources. 


Les Guerres Picrocholines – The Picrocholine Wars
Adapted from Gargantuaby François Rabelais.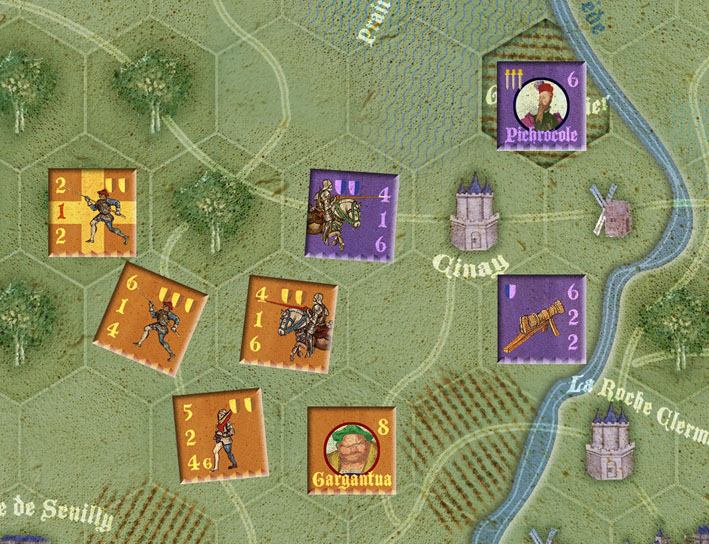 The story of the Picrocholine Wars is one of the most well-known passages of the novel Gargantua, written by François Rabelais in 1534. Using a brawl between shepherds and millers as a pretext, Picrochole, King of Lerne, declared war on Gargantua's father, Grandgousier. A model of the enlightened monarch of the Renaissance, Grandgousier attempted to avert war by all means. But Picrochole, taking this as a sign of Grandgousier's weakness, invaded his neighbor's kingdom. Grandgousier calls upon his son, and Gargantua, at the head of an army of his loyal companions, inflicts a humiliating defeat on Picrochole, who flees on the back of a donkey.

Les Guerres Picrocholinessimulates this celebrated episode of French literature through a fun and simple wargame. Players will find and discover in this game all of the events that gave the novel parodying the chivalric tomes of the era its charms: the giant Gargantua, of course, and his friends Gymnast and Frère Jean, but also the cheating Picrochole and his lieutenants.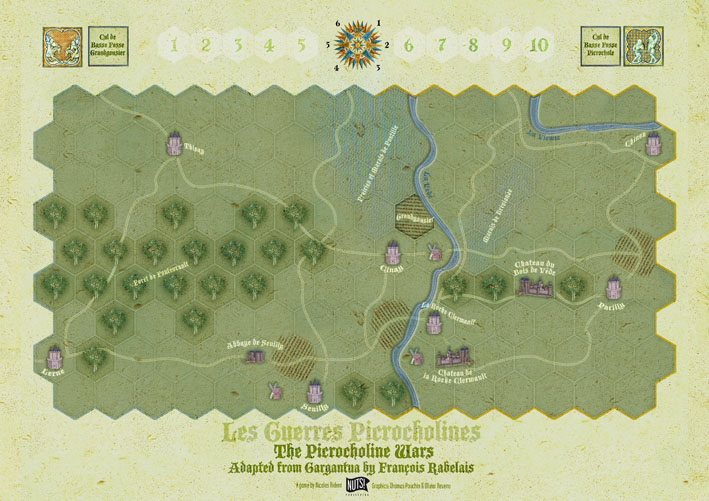 Though it has its "rabelaisien" side, Les Guerres Picrocholines is a balanced game in which each camp has its own distinct strengths and during which players will have to adopt the role of both the attacker and the defender. Les Guerres Picrocholinescombines gaming pleasure with culture and history, and is ideal for initiating new players into wargaming.
---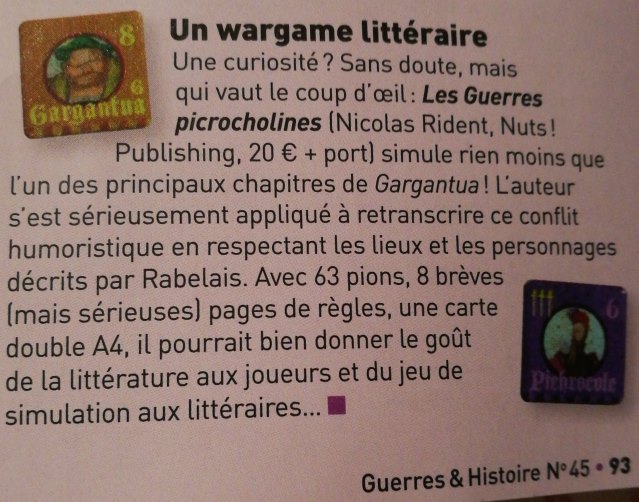 ---
• The Picrocholine Wars
Designer: Nicolas Rident

Graphics : Thomas Pouchin & Olivier Revenu

• 17" x 11" map
• 64 die-cut counters
• 8 pages rules booklet in english & in french