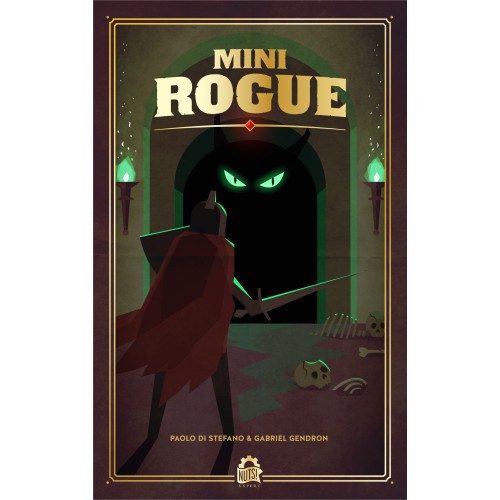 You can download the Print and Play demo version for Mini Rogue in Resources.



Mini Rogue is a game profoundly inspired by roguelikes and roleplaying games. Monsters, hazards, treasures, bosses, dungeons, random rooms and encounters are all featured in Mini Rogue. 


In this 1 to 2-player game, you play as an adventurer that delves into a dungeon, room after room, area after area, level after level, to loot the Go's Blood: a fabled and mysterious ruby gemstone.


Each area of the dungeon is laid out as a branching of rooms. Each time you face two rooms, you'll have to choose one. You will resolve each encounter by rolling dice, and decide on how to pursue the adventure. In each room, you may encounter a monster, a treasure, discover a resting area, meet a merchant, dodge traps, or face other surprising events. Each level ends with a powerful boss monster that you'll have to defeat to continue onto to the next level. You win the game if you can reach the last room of the Dungeon and defeat the final Boss Monster, Og's remains.



Mini Rogue - ENGLISH VERSION
Designer: Paolo Di Stefano et Gabriel Gendron

Graphics: Gabriel Gendron

• Game box
• 32 cards
• 12 special dice
• 17 cubes
• 2 player mats, 1 dungeon mat
• 1 rulebook



| | |
| --- | --- |
| Players | 1-2 |
| Players | 15-30 minutes |
| Age | 14 ans et + |




This is a pre-order, you won't receive the Kickstarter exclusives.



22.00€
19.00€
Availability:

Coming